emptyemptyemptyemptyempty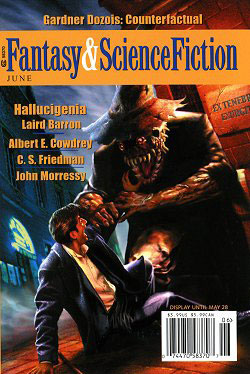 The Magazine of Fantasy
& Science Fiction – June 2006
ISBN:



Founded in 1949, Fantasy & Science Fiction magazine is the award-winning original publisher of such classics as Stephen King's Dark Tower, Daniel Keyes's Flowers for Algernon, and Walter M. Miller's A Canticle for Leibowitz.
Each bimonthly issue offers compelling short fiction by writers such as Ray Bradbury, Ursula K. Le Guin, and Terry Bisson, along with the science-fiction field's most respected and outspoken opinions on books, films and science–plus a dash of humor from our cartoonists and writers.
Terms of Engagement is C.S. Friedman's contribution to this collection.