empty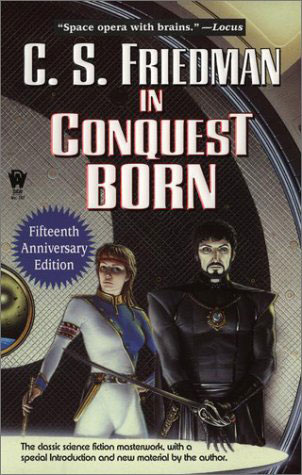 Publishing History
DAW Paperback
ISBN – 0886771986
April 1, 1986

SFBC Hardcover
ISBN – Science Fiction Book Club
April 1, 1989

LEGEND UK Paperback
ISBN – 0099606909
August 1, 1992

DAW Paperback (15th Anniv.)
ISBN – 0756400430
November 1, 2001

The Great War between Braxi and Azea has gone on since the beginning of interstellar history, and will continue–some claim–to its end. Unable to achieve final victory, unwilling to accept defeat, both sides have devoted centuries to perfecting their martial capacity, each according to a unique tradition. In the Braxin Holding, the ruling Braxaná tribe draws upon ancient customs to create a warrior race as strong as it is ruthless, and utterly without human weakness. In the Azean Empire scientists race to perfect the human genome, and to unleash the psychic potential of the human mind against their implacable opponent.
Now two great generals have arisen, each determined to breach the stalement at any cost. And their obsession will soon spark a vendetta that will change the course of empires…
Nominated for the John Campbell Award
Reviews
New York Newsday
"C.S. Friedman makes an auspicious SF debut with IN CONQUEST BORN, a big, ambitious, book with all the excitement of good ol' space opera. The novel is built on the contrast of two protagonists, young people whose talents lead them to the tops of two space-going societies: one militaristic, paranoid and male-dominated; the other pluralistic, with advanced mental powers. The plot follows them from birth to their clash as the two vast space-empires struggle for domination. This is space opera in the best sense: a combination of high-stakes adventure with a strong focus on ideas and characters whose fate an intelligent reader can care about."
Amazon.com
"In Conquest Born' is the monumental science fiction epic that received unprecedented acclaim and launched C.S. Friedman's phenomenal career. A sweeping story of two interstellar civilizations locked in endless war, it was nominated for the John W. Campbell Award."
Locus
"Space opera with brains."
I began working on the background material for this novel in high school. With starmaps tucked into the backs of my notebooks and short stories masquerading as note-taking, I was thus able to spend of my school time focused on something far more important than education: world-building. Over time the original concept evolved into something more complex and ambitious, and a collection of interconnected stories began to emerge. In 1978 I was encouraged by a friend "with connections" to develop them into a novel and try to sell it. Alas, I was in grad school by then, which left little free time for writing. It was not until 1983 that I finally organized the "project from hell" into a novel proper and turned it in to DAW books. They bought it immediately, and the rest, as they say, is history.
In Conquest Born is, at its heart, a Cold War tragedy: two peoples so long committed to war, so molded by an endless cultural conflict, that "peace" is no longer in their vocabulary. A millenial war punctuated by unstable truces has become the centerpiece of both civilizations, to the detriment of both cultures. Against this background two leaders arise, challenging all that their peoples have become, locked together in a vendetta that borders on sexual obsession.
It's a story that gained in depth and complexity every year I worked on it, and while very little of the material in the completed novel came from those early years — most was written the summer before I turned it in — the characters, the universe, and the underlying themes resonated in a way you can only get when you have spent 12 years polishing your concepts.
Don Wollheim accepted the MS for DAW books 'as is', declaring he "would not change a word", but his rapid decline in health meant that his daughter Betsy Wollheim had to take over the business and thus my manuscript.
In a scene which I immortalized in the introduction to the Anniversary edition of the novel, she and I bonded over food (better than a contract for New York Jews) and then proceeded to discuss my manuscript. Hesitantly, she broached to me the idea that maybe the story was a bit more fragmented than a novel should be, and maybe I should add a bit more detail to a few spots. I responded by throwing out about 30% of my work and rewriting the whole novel…which she spent the next 15 years feeling guilty about… guilt being yet another important component of New York Jewish relationships.
What resulted was an infinitely better novel than my original work could ever have been, which won Betsy a place in my personal pantheon of "Editor-Goddesses", as well as a permanent card in my rolodex of Best Friends Ever. For the 15th anniversy edition I finally was able to add a much-needed glossary, which I just hadn't had the time to write the first time around.
In 1991, Rick Umbaugh (who had delivered In Conquest Born to DAW and thus kick-started my writing career) reminded me that one page on the original manuscript had never made it into print. When I had sent the manuscript to him back in '83, I had apparently scrawled a note to him across the top page with a Sharpie:
I WILL NEVER DO THIS AGAIN!
Rick, bless his evil soul, had left that page in place when he delivered the package to DAW. And so (I found out a decade later) the first words of mine that Donald Wollheim ever saw was my vow to never write another book.
Fortunately for me, no one took it seriously.
Fortunately for Rick, I didn't find out about it until he had moved faaaaaaar away.