empty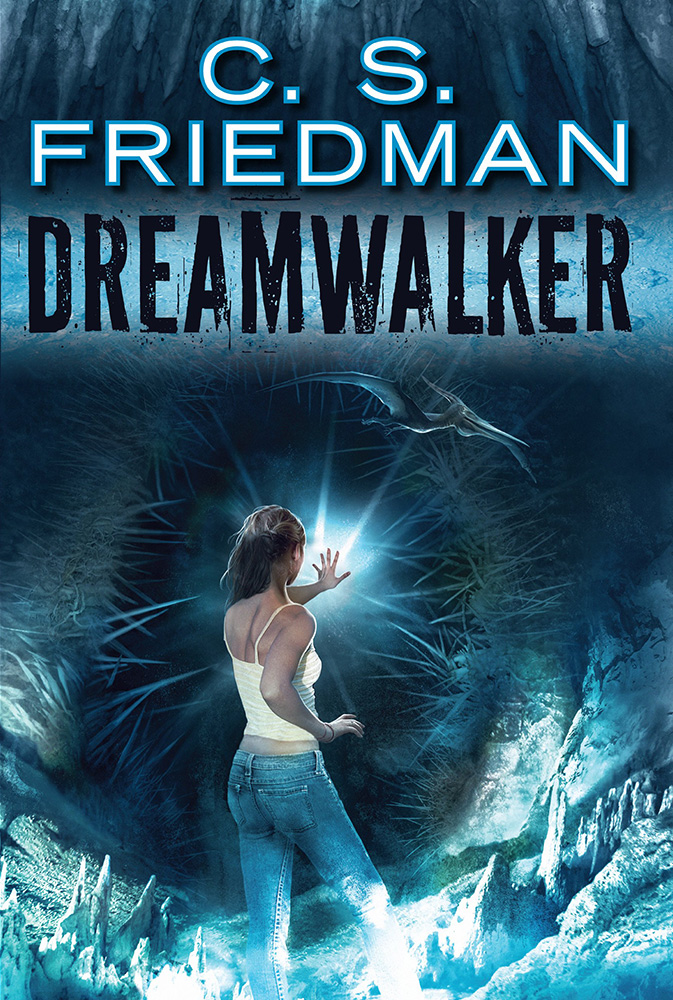 Publishing History
DAW Hardcover
ISBN – 0756408881
February 4, 2014

DAW Paperback
ISBN – 0756409640
February 1, 2015

Dreamwalker (Dreamwalker Chronicles #1)
All her life Jessica Drake has dreamed of other worlds, some of them similar to her own, others disturbingly alien. She never shares the details with anyone, save her younger brother Tommy, a compulsive gamer who incorporates some aspects of Jessica's dreams into his games. But now someone is asking about those dreams…and about her. A strange woman has been watching her house. A visitor to her school attempts to take possession of her dream-inspired artwork.
Why?
As she begins to search for answers it becomes clear that whoever is watching her does not want her to learn the truth. One night her house catches on fire, and when the smoke clears she discovers that her brother has been kidnapped. She must figure out what is going on, and quickly, if she and her family are to be safe.
Following clues left behind on Tommy's computer, determined to find her brother and bring him home safely, Jessica and two of her friends are about to embark on a journey that will test their spirits and their courage to the breaking point, as they must leave their own world behind and confront the source of Earth's darkest legends — as well as the terrifying truth of their own secret heritage.
Postcards from the Emerald City
"A vivid world-builder, she has the knack for reaching into the dark heart of humanity, pushing past the thin layer of the mundane and exposing the fantastic beneath. And making those things that raise the hairs on the back of your neck seem very real."
Far Beyond Reality
"With Dreamwalker, C.S. Friedman has successfully taken the jump from her usual dark fantasy/SF style to modern YA. The novel offers realistic portrayals of teenage characters, as well as a plot and prose that should match the expectations of that audience. It's yet more proof of her amazing talent as an author that she pulled this off."
Bookworm Blues
"Honestly, Friedman fans, if you can handle Tad Williams turning from epic fantasy to urban fantasy, you can handle Friedman writing young adult. You still have all the Friedman goodness here — like the carefully paced and intricate plot, the well-developed characters, and the fantastic prose. It's just a different flavor…This might be the first young adult book I've ever read that absolutely captivated me."
Pat's Fantasy Hotlist
"…a fast-paced narrative which really takes you on a wild ride…the rhythm of the prose and Jessica's plight quickly take over and suck you into Dreamwalker. Relatively short chapters, engaging protagonists, and surprising revelations keep you turning those pages…Based on Dreamwalker, it is evident that this is a series brimming with potential and I'm looking forward to finding out what Friedman has in store for those characters!"
Bibliosanctum
"To my surprise, Dreamwalker turned out to be a pretty big departure from C.S. Friedman's previous works. Still, I was no less charmed by the remarkable story and characters than I had been before I realized this was a book more geared towards the young adult audience. After all, YA fantasy has so much to offer these days, and as someone who enjoys reading this category quite a bit, I found Dreamwalker to be a promising start to what has the potential to become a great new series."
Books Without Any Pictures
"I get the feeling that a lot of long time fans of C. S. Friedman's writing aren't going to like this book, not because it isn't good, but because it's such a departure from her usual style.  Readers, don't expect epic and twisted sagas in the style of the Magister or Coldfire trilogies.  That's not what this book is supposed to be.  It's a young adult contemporary fantasy story, and Friedman does an excellent job exploring a new genre.  I look forward to reading the next installations in the series."
TOR.com
"I've long been a fan of C.S. Friedman's writing; regardless of genre flavor (Fantasy in The Coldfire Trilogy and The Magister Trilogy or Space Opera in This Alien Shore, In Conquest Born), her novels have always had a balance of character and plot and worked very well for me. Ms. Friedman steps a bit farther afield than previous jaunts through the genre with Dreamwalker, a first person young adult urban fantasy…Friedman does many things well in this novel, and her experience as an engaging storyteller is on full display."
Through a narrow slit at the far end of the cavern we could see there was a much larger chamber beyond; the light seemed to be coming from there. Slowly, warily, we approached it, and for a moment we all stood as still as the rock itself, listening for any sign of danger. But all we could hear was the distant drip of water, the music of a living cave. So I took the lead and squeezed through the narrow slit.
I emerged into a massive chamber. I didn't need a guidebook to tell me that this was the crown jewel of Mystic Caverns, the point where all tours had converged. The ceiling was so far overhead I couldn't make out its limits, and a thick forest of columns and stalagmites surrounded me, making it hard to see what else was in the chamber. All about the room, inside crevices and behind formations, the light cast deep black shadows. God alone knew what might be hiding in any one of them.
As I crept warily forward I thought I could make out a large open area ahead of us, surrounded by a waist-high railing. The light we'd detected was coming from a series of lamps affixed to its support posts, and though the illumination must have been pretty dim by aboveground standards, it was nigh on blinding to us in our current state. I blinked as tiny purple spots swam before my eyes, as my eyes slowly adjusted. Then I got to where I could see what was in the central part of the chamber. And I froze.