empty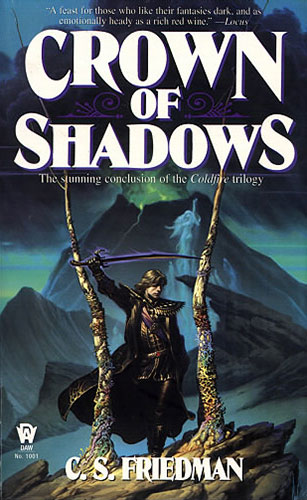 Publishing History
DAW Hardcover
ISBN – 0886776643
October 1, 1995

SFBC Hardcover
ISBN – Science Fiction Book Club
February 1, 1996

DAW Paperback
ISBN – 0886777178
July 1, 1996

DAW Trade Paperback
ISBN – 0756403189
November 1, 2005

In the first two volumes of her acclaimed Coldfire trilogy, C.S. Friedman introduced readers to the beautiful but treacherous world of Erna, where humanity has fought a desperate struggle for survival against the fae–a force of nature which responds to the human psyche, indiscriminately bringing to life a person's most treasured dreams or hideous nightmares.
For more than a millennium now Erna's humans have maintained an uneasy stalemate with the fae, with adepts and sorcerers working for their own profit while the demonic creatures who feed upon such efforts rapidly gain power and ambition.  Now one of these demons, a Iezu called Calesta, has declared war on all of mankind.
Master of illusion, devourer of pain, Calesta plans to remake the human species until mankind exists only to sate his unquenchable thirst for suffering, and omens of his triumph are already apparent.  Even the Church of the One God seems to be in danger, the souls of its faithful corrupted by a demon whose very essence is sadism.
Only Damien Vryce, a warrior-priest of the One God, and his unlikely ally, the undead sorcerer Gerald Tarrant stand between Calesta and his triumph.  Nothing short of the demon's absolute destruction will save mankind from his unholy influence.  But no one on Erna is certain just what the Iezu really are, and no man has ever succeeded in killing one.
Faced with an enemy who may prove invulnerable–pitted against not only Calesta, but the leaders of the Church and the Hunter's last descendent–Damien and Tarrant must risk everything in a war that will take them from the depths of Hell to the birthplace of demons and beyond in a battle which could cost them not only their lives, but the very soul of all mankind.
Reviews
Book List
"Readers who have followed Friedman through Black Sun Rising and When True Night Falls will not be disappointed by this stout romance that concludes another fantasy trilogy. Here are Friedman's usual virtues: plenty of action, brisk pacing, and characters and settings painted with broad strokes and vivid colors."
Publisher's Weekly
"This closing volume of Friedman's Coldfire trilogy ably concludes one of the better fantasy series in recent memory…readers will be enthralled…(Friedman's) general mastery of her material should delight her fans."
Locus
"Stunning…Combines good historical world-building, vampires, religion, and transcendence in a tale that is both entertaining and cathartic. A feast for those who like their fantasies dark, and as emotionally heady as a rich, red wine."
Library Journal
"Complex and compelling…. The richly detailed setting and strong supporting characters give substance to a tale that explores the consequences of embracing evil in hopes of achieving its redemption."
Romantic Times
"Words do not suffice to describe the sheer imaginative genius, not to mention incredible power, of Ms. Friedman's formidable storytelling gift–you simply have to experience it."